The Alta Langa is a land of emotions, stories and flavours. Chef Luca Zecchin of the Michelin-starred restaurant Guido da Costigliole knows this well – "those of the Alta Langa prefer consistency. An example? Egg and cabbage and spaghetti with borlotti beans extraction. The first is an appetiser that combines the creaminess of the soft-boiled egg with three different types of cabbage, from cauliflower dressed with gorgonzola sauce to black cabbage; as a first course, spaghetti cooked with bean extract recover all the full-bodiedness of the bean, melting into an amalgam with a very rich and intense flavour to create a contrast with the typical acidity of the wines of this area'.
The area is also the backdrop for the novels of the Alba writer Beppe Fenoglio, whose birth centenary falls this year. It is here that he lived the Resistance period, between Murazzano and Mombarcaro, places that later characterised and defined many of his novels, starting with Una questione privata. There are numerous events celebrating the anniversary: from the first of March 2022 to the first of March 2023, the Fenogliano year is divided into four chapters – like a novel – to mark the seasons dedicated to celebrations using the writer's titles. A possible Fenogliano itinerary starts from the writer's birthplace, San Benedetto Belbo, and then reaches Murazzano (where you can taste the DOP cheese of the same name) and walk through the literary park dedicated to him. It is worth taking a walk in the historic centre of Bossolasco, where it feels like stepping back in time. Continue with a visit to the historic centre of Cravanzana to reach the Fenogliano site par excellence, the Cascina di Pavaglione and then the village of San Bovo. From Pavaglione you can take a day's walk to the viewpoint with the small church of S. Elena and a final stop at San Donato di Mango.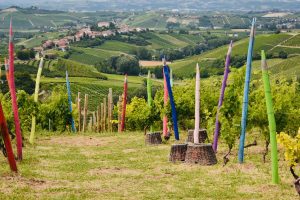 At the end of the tour, to indulge in a bit of lightness, an obligatory stop in Coazzolo where, in addition to the small church repainted by Tremlett, there is the Vigna dei Pastelli, with pencils instead of wooden poles, and a giant bench from the Big Bench project, on which to become a child again, relaxing with a bottle of Dolcetto while admiring the sunset over the Moscato vineyards.
All that remains is to leave!